SenSprout was featured in Impact Journalism Day.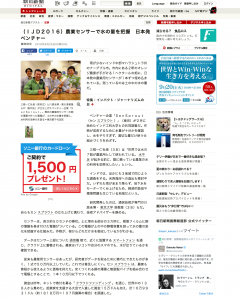 *Image is screen capture of Asahi Shimbun article
Impact Journalism Day is an event where 57 newspaper publishers around the world collaborate to feature innovative projects that could impact the world.
http://impactjournalismday.com/
This year, SenSprout was chosen as one of the projects to be featured, and articles were published in newspapers and online media of different countries.
-Asahi Shimbun: http://www.asahi.com/articles/ASJ6M6Q49J6MULZU004.html
– Azernews (Azerbaijan): http://www.azernews.az/ijd/98462.html
– El heraldo (Hondulas):http://www.elheraldo.hn/especiales/periodismodeimpacto/storiesinenglish/972613-481/japan-venture-introducing-smart-irrigation-to-farmers
– Kommersant (Russia): http://www.kommersant.ru/doc/3013345
– Straitstimes (Singapore): http://www.straitstimes.com/world/18-sensor-checks-if-crops-are-irrigated
– Daily Monitor (Uganda): http://www.monitor.co.ug/SpecialReports/Smart-irrigation-giving-solutions-to-Japanese-farmers/-/688342/3265782/-/svfmcw/-/index.html